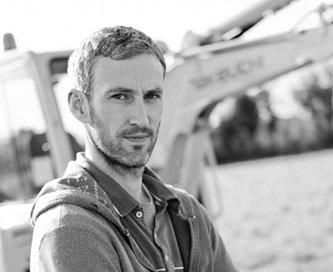 Ammex Rental founder Aidan Murray started building his specialised fleet of excavator machinery as a child sitting beside his father in a dragline.
For over twenty years Aidan worked as a fully qualified construction plant fitter for reputed national plant hire companies including Decca Hire, CP Hire and Tara Plant Hire until he launched Ammex Rental's first portfolio fleet in 2012, specialising in a full range of mini diggers, dumpers and rollers.
Aidan is an expert in repair and maintenance and his technical professionalism is at the heart of Ammex Rental.
"During my career, I have witnessed first-hand the performance and productivity of different worldwide brands and I have now used this knowledge to carefully select the finest fleet for Ammex Rental. My machines are trouble-free. I want my clients to know they can make an order and the machine will be delivered on time, in perfect condition. I will personally do all I can to make sure this is every Ammex Rental customer's experience." – Ammex Rental Founder, Aidan Murray
MISSION
Fast & Friendly
No reliance on third parties means we have total control over customer service. We take pride in offering a personal service with a fast-moving team.
Health & Safety
The company has a policy of regularly servicing machines and delivering high quality, comfortable equipment. All Ammex Rental machines comply with updated Health and Safety regulations and have required certification.
Support & Maintenance
The Ammex Rental team has experienced, qualified fitters and we know our machines inside out. Supporting our customers and maintaining our machines underpin Ammex Rental's company values.
Green Machine Policy
At Ammex Rental, we are mindful of our environmental footprint and we are always looking to find innovative ways to make our business as 'green' as possible. To kick-off an ongoing mission, 100% of all our oil waste is collected by hazardous waste contractors for recycling. All recent additions to the fleet have interim tier four engines meeting all the latest emission and noise requirements essential for on site health and safety.
Competitive Pricing
Ammex Rental offers competitive prices and we endeavour to attract new customers with our latest special offers.